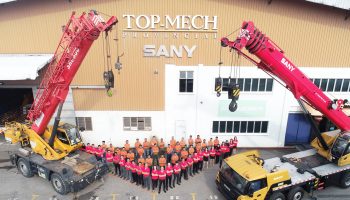 TOP-MECH PROVINCIAL SDN BHD
About Company
Established in s, it became among the first crane makers in Malaysia to go global. Today, Top-Mech has an established network of dealers in 14 countries including Pakistan, Sri Lanka, UAE, Bangladesh, Myanmar, Brunei, Singapore, and Indonesia.
Top-Mech's manufacturing facility in Klang has the capacity of churning out 150-200 units of cranes each year. Being in an industry that demands prompt after-sales services, Top-Mech has established service stations in major cities nationwide and internationally through appointed dealers. Its notable track record spans across landmark projects from MRT1, MRT2, SUKE, DASH, ECRL and LRT3 to various power plants, waterworks, precast yards and a wide spectrum of industrial projects.
As a hallmark of quality, safety and environmental commitment, Top-Mech has been accorded the ISO and ISO certifications. The company's efforts were also recognised by SME Corporation Malaysia where they were among the top 3 winners for the Enterprise 50 Award.